Formulated products: who is promising what?
Who is promising what on home and personal care products in the U.S.?
Business leadership is critical in realizing a safer marketplace. Companies are committing to be more transparent about ingredients and to remove certain chemicals of concern from products.
To track the movement in the marketplace, we made a tally of the public commitments made in the household cleaning and personal care product sectors. For our tally, we have included only those commitments that are explicitly stated on the companies' websites.
This is a living document and is in no way an exhaustive tally, but we aim to update it over time. Please let us know if you have any suggestions to improve the list — especially if we have missed a company.
Below, find existing company commitments on ingredients never used in a company's products; on phasing-out, banning or restricting use of chemicals of concern; and on ingredient transparency.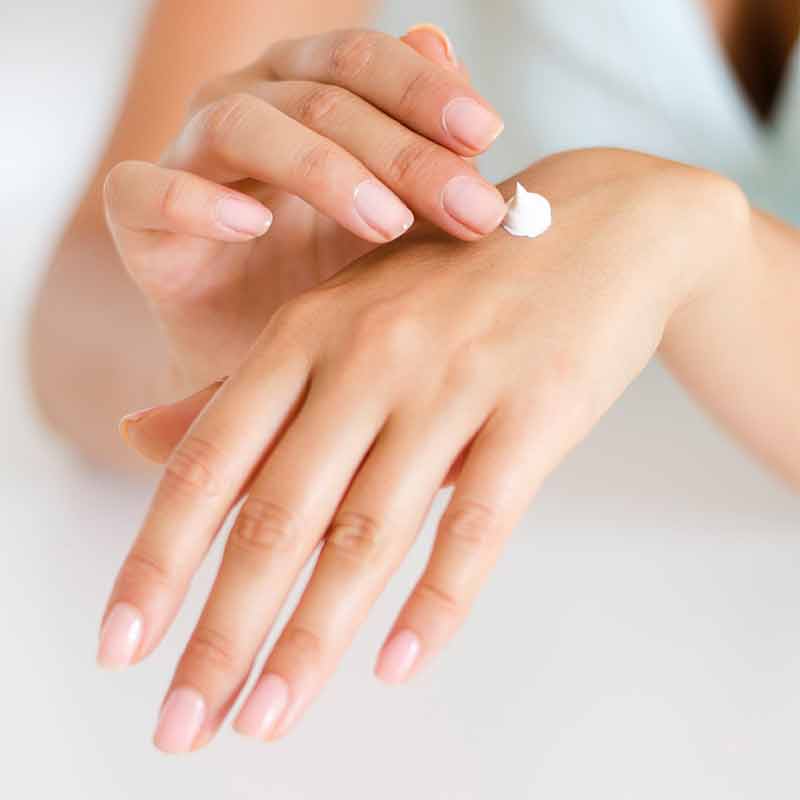 Retailers with "never use" ingredient lists for all products or subset of identified products*
Products covered
Stated commitment
CVS
"Earth Essentials" cleaning products
No phosphates, phthalates
CVS store brand baby, beauty and personal care products
No chemicals on CVS store brand restricted substances list
Credo Beauty
All products
No chemicals on "The Dirty List" allowed in products (many ingredients)
Follain
All products
No chemicals on Restricted Ingredients list allowed in products (many ingredients)
Sephora
Products with "Clean at Sephora" Label
Free of: SLS, SLES, parabens, formaldehyde, formaldehyde-releasing agents, phthalates, mineral oil, retinyl palmitate, oxybenzone, coal tar, hydroquinone, triclosan, and triclocarban
Fragrance products with "Clean at Sephora" label
In addition to above requirements, fragrance products must not contain: PTFE/PFOA, styrene, polyacrylamide / acrylamide, acetaldehyde, acetonitrile, methylene chloride, animal fats, oils, and musks, benzalkonium chloride, toluene, resorcinol, acetone, butoxyethanol, ethylenediaminetetraacetic acid, methyl cellosolve, methylisothiazolinone / methylchloroisothiazolinone, mercury and mercury compounds , and bisphenol A (BPA).
Target
Essentials & Beauty products with "Wellness Icons"
For a product in this category to carry a wellness icon, at a minimum, it must not include: propyl-paraben, butyl-paraben, phthalates, formaldehyde, formaldehyde-donors or nonylphenol ethoxylates (NPEs).
Walgreens
"Well Beginnings" line
No parabens, phthalates, formaldehyde donors
Whole Foods (Amazon)
All personal care products
Over 100 ingredients banned
Premium Body CareTM products
Over 400 ingredients banned
All cleaning products
Eco-Scale product rating system (red, orange, yellow, green tiers) listing "unacceptable ingredients" – ingredients not allowed in products labeled at the different tier levels
* For a product to be sold in the applicable category or under the identified program, private label and/or national brands, it cannot contain the listed ingredients.
Brand manufacturers with "never use" ingredient lists
Products covered
Stated commitment
Aveda
All products
No parabens, phtalates, and sodium lauryl sulfate
Beauty Counter
All products
The Never List – 1500 ingredients banned
Burt's Bees
All products
No phthalates, parabens, petrolatum or sodium lauryl sulfate (SLS).
EO Products
All products
No parabens, sodium laurelth sulfate, synthetic fragrances, aluminum, propylene glycol, polysorbates, phthalates, artificial colors or dyes, GMOs.
The Honest Company
All products
NO ListTM – a list of over 3,000 chemicals/ materials not used in products
Method
All Products
No chlorine bleach, triclosan, EDTA, phosphates, 2-butoxyethanol, phthalates, parabens, ammonia, ethanolamine (MEA)
Mychelle
All products
"The Dirty 30" ingredients banned
Seventh Generation
All products
No phosphates, optical brighteners, synthetic surfactants, synthetic fragrances or dyes, volatile synthetic surfactants, volatile organic compounds (VOCs).
Tom's of Maine
All products
No artificial colors, syntheic flavors, or fragrances, artificial preservatives (e.g., EDTA, formaldehyde, parabens, etc…), animal ingredients, ethylene glycol, gluten, grapefruit seed extract, parabens, peroxides, petrochemicals, phthalates, artificial sweeteners
Unilever
Baby care products
Formaldehyde releasers/donors
Home and personal care
No mecury compounds
All products
Iso-parabens, diethyl phthalates (DEP),
Retailer commitments to ban, phase-out, restrict, or reduce use of certain chemicals of concern
Products as specifiedRestricted Substances List (RSL) including Manufacturing Restricted Substances ListEffective: 2014, updated annually
Products affected
Specific commitments
Dates
Amazon
Private label Baby, Household Cleaning, Personal Care, and Beauty Products
Restricted Substances List including parabens, formaldehyde donors, phthalates, nonylphenol (NP), nonylphenol ethoxylates (NPE), toluene, and triclosan
Committed: 2018
Bed Bath & Beyond Inc.
All products
Certain flame retardants banned
Completed; date not specified
All private label products
Reductions in lead, cadmium, and phthalates (in plastics)
In effect; date not specified
Costco
Apparel, bedding, home goods, pet beds, furniture, personal care products, cleaning products, Kirkland SignatureTM food packaging, Kirkland Signature baby wipes and diapers
Costco Smart Screening protocol: Tests these items for chemicals of concern that are not restricted by law and works with suppliers to remove chemicals from items
Committed: 2017
CVS
All CVS Brand products
Removed Cocamide and Cocamide DEA
Completed: 2013
Essence of Beauty Products
Parabens removed
Completed: 2013
"Essence of Beauty" body and hand creams
Artificial dyes removed
Completed: 2013
All CVS brand products, most name-brand products
Triciosan removed
Committed: 2014
Effective: 2015
CVS Brand Products
Microbeads removed
Committed: 2014
Effective: 2015
CVS Brand baby products, certain non-medicated adult cleansing wipes
Formaldehyde removed
Committed: 2014
Effective: 2015
All CVS store brands in baby, beauty and personal care products
Restricted Substances List (RSL) including parabens, phthalates, formaldehyde donors
Committed: 2017
Goal completion date: 2019
Rite-Aid
Private label formulated products
Elimination of triclosan, formaldehyde, toluene, butylparaben, propylparaben, dibutyl phthalate, diethyl phthalate, and nonylphenol ethoxylates
Committed: 2016

Goal completion date: 2020

Target
Personal care, Beauty, Household cleaning, Baby care products
Remove phthalates, paraben, formaldehyde, formaldehyde donors and NPEs.
Committed: 2017

Goal Completion date: 2020

The Home Depot
Residential Household Cleaning Chemicals
Remove propyl-paraben, butyl-paraben, diethyl phthalates, dibutyl phthalates, formaldehyde, nonylphenol ethoxylates (NPEs), triclosan, toluene, trichloroethylene (TCE).
Committed: 2018

Goal Completion date: End of 2022

Walmart (U.S), Sam's Club U.S.
Health & beauty, Household paper, Pet supplies, Household chemicals, Cosmetics & skincare,Infant consumables, Janitorial
Remove propyl paraben, butyl paraben, triclosan, toluene, dibutyl phthalate, diethyl phthalate, formaldehyde, nonylphenol (NP) and nonylphenol ethoxylates (NPEs)
Reduce chemicals on Walmart Priority Chemicals list
Committed: 2013
10% weight reduction in Walmart Priority Chemicals (or consumables chemical footprint)
Committed: 2017
Goal completion date: 2022
Walgreens Boots Alliance
Walgreens and Boots owned brand and exclusive retail products in: baby, beauty, personal care, and household cleaning products
Elimination of substances on the Restricted Substances List, including parabens, phthalates, formaldehyde and formaldehyde donors, nonylphenol (NP) and nonylphenol ethoxylates (NPEs).
Effective 2018

Goal Completion date: End of 2021
Brands' commitments to ban, phase-out, restrict, or reduce use of chemicals of concern
All productsAcutely orally toxic ingredients and chronic toxicants phased outGoal completion date: 2020
Products affected
Specific commitments
Dates
Aveda
All products
Eliminate parabens
Completed: No date specified
Clean Control Corporation
All products
Inorganic phosophorus
Completed: No date specified
Select floor strippers, concentrated laundry detergents
No ammonia
No monoethanolamine (MEA)
Completed: No date specified
All products
2-butoxy ethanol phthalates
Completed: No date specified
Johnson and Johnson
All baby products
All new products by 2015 (with rate exceptions>
Formaldehyde releasers removed
Completed: 2015
All products
Parabens banned (except methyl, ethyl and propyl in adult products)
Fragrance oils: animal-derived ingredients, nitromusks and polycyclic musks, tagetes, rose crystal, diacetyl, Diethyl phthalate (DEP)
Completed: 2015
All products
Microbeads removed
Committed: 2013
Completed: 2017
All products
Triciosan
Committed: 2011
Completed: 2015
P&G
Cleaning products
Phosphates phased-out
Completed: 2016
All formulated products
No alkylphenols and alkylphenol ethoxylates, benzene, BPA, heavy metals, microbeads*, organotins, polyvinyl chloride (PVC), polycyclic aromatic hydrocarbons (PAHs), polychlorinated bphenyls (PCBs), phthalates*, triclosan, triclocarban*
Completed: No date specified
* These ingredients are not used in current products and P&G has committed to removing them from exisitng products
Reckitt Benckiser
All products
Formaldehyde, dichlorvos, glycol ethers (monoethylene series), paradichlorobenzene (PDCB) removed
Completed: 2006
Formaldehyde-donor preservatives, Non-geranyl nitrile fragrance raw materials,  certain brominated flame retardants, alkyl phenol ethoxylates (APEs), NPEs removed
Completed: 2007
Chlorpyrifos, certain boron compounds, geranyl nitrile (GN) fragrance raw materials removed
Completed: 2009
Polyethylene beads to be removed
Goal completion date: 2018
Isothiazolinones (preservatives)
Committed: 2017
Cosmetics
Isoparabens removed
Completed: 2015
All products except healthcare products
PVC packaging of household products removed
Completed: 2009
Seventh Generation
Laundry detergent
Boric acid removed
Committed: 2014
Completed: 2015
Formulated products
Benzisothiazolinone (BIT) and methylisothiazolinone (MIT)
Goal Completion Date: 2020
SC Johnson
All products
No materials on the "Not Allowable" list (unless at restricted levels)
Committed: 2001
Unilever
Most leave-on personal care products
Rinse-off personal care products
Methylisothiazolinone (MIT) removed
All products
Triclosan, triclocarban removed
Committed: 2015
Completed: 2017
New and existing fragrance formulations
Lyral removed
Completed: 2017
Exfoliating products
Plastic scrub beads
Completed: 2014
Retailer commitments on ingredient transparency to consumer
Products affected
Specific commitments
Dates
Rite Aid
Private label formulated products
Encourages suppliers to publicly disclose all ingredients online or on pack, including the constituents of fragrance and other generic ingredients
Committed: 2018
Target
Beauty, baby care, personal care, and household cleaning formulated products
Achieve full transparency, including generics such as the term "fragrance"
Goal completion date: 2020
Walmart
Health & beauty, Household paper, Pets & supplies, Household chemicals, Cosmetics & skincare, Infant consumables, Janitorial
Encourages suppliers to disclose all ingredients online (by product) and on product label
Committed: 2013

Effective date: 2015 for online disclosure

Effective date: 2018 product label disclosure

Walgreens Boots Alliance
Walgreens and Boots owned brand and exclusive consumer retail formulated products in the baby, beauty, personal care, and household cleaning product categories
Will pursue full ingredient transparency, including generic terms such as "fragrance" and will annually measure and report progress toward fuller ingredient disclosure
Brand manufacturers commitments on ingredient transparency to consumer
Products affected
Level of transparency
Dates
Beautycounter
All products
ingredient name and function at product level online
Completed: No date specified
Clean Control Corporation
All products
Ingredient name and function for non-fragrances at product level
Completed: 2014
Clorox
All products
Ingredient name and function for non-fragrances at product level
Effective: 2015
Discloses online the presence of all EU fragrance allergens when present at a concentration of 0.01 % in products
Effective: No date specified
Ecos (Earth Friendly Products)
All products
Ingredient name and function at product level online and product label
Completed: No date specified
The Honest Company
All products
Ingredient names at product level online and product label
Completed: No date specified
Personal care and cosmetic products
Identifies EU fragrance allergens when at 0.01% in rinse off products and 0.001% in leave-on products
Completed: No date specified
Method
All products
Ingredient names, function, safety information at product level
Effective: 2009 for online disclosure
Effective 2012 for product label disclosure
P&G
All products
Preservatives palette
Effective date: 2017
Fragrance palettes (with conditions)
Committed: 2017
Goal completion date: 2019
Reckitt Benckiser
All products
Ingredient name and function for non-fragrances at product level online and on-pack
Effective: 2009
Committed: 2017 for product label disclosure on US cleaning products
Disclosure of 99.99% of fragrance ingredients online and disclosure of fragrance ingredients below 100 ppm that are on one of the recognized hazard lists
Committed: 2017
Disclosure of all known fragrance allergens online when present in products >100 ppm
Effective: 2017
Full disclosure of dyes and preservatives
Completed: No date specified
SC Johnson
All products (staged roll-out by product category)
Ingredient names and functions for non-fragrances at product level online
Effective: 2009
Exclusive Fragrance Palette online
Effective: 2012
Product-specific fragrance information (with conditions) online
Effective: 2015
Fragrance and non-fragrance skin allergen palette online and then by product
Effective: 2017
Completed: 2017 for Palette
Goal completion date: 2018 for product-level information
Seventh Generation
All products
All ingredients disclosed on product packaging
Effective: 2008
All ingredients, materials, packaging, and supply chain disclosed publically
Goal completion date: 2020
Unilever
All products
Non-fragrance ingredient names and function
Effective: 2017
Fragrances at product level online (and available via SmartLabel QR code on product label)
Committed: 2017
Goal completion date: 2018
Personal care products
Flag EU fragrance allergens on product label
Committed: 2017
For more examples of companies leading on ingredient transparency, visit EDF's Rules for Online Disclosure
Last updated: February 2019