Safer Food through safer food additives
Behind the Label: A Blueprint for Safer Chemicals in the Marketplace
Environmental Defense Fund is working with companies like grocery chains, restaurants and food manufacturers to reduce and remove potentially unsafe additives and contaminants in food.
Consumers are increasingly concerned about what is in their food and are demanding safer and more sustainable products—all at a fair price.
Retailers and food manufacturers are beginning to pay attention, reformulating tens of billions of dollars of products
Retailers like Trader Joe's, Kroger, Safeway and Target have developed private brands without certain ingredients commonly used in packaged foods. Food companies such as Nestle, General Mills, Kellogg's, Hershey's and Campbell's all committed to eliminating artificial colors and flavors from many of their iconic brands. National restaurant chains such as Pizza Hut, Taco Bell, Subway and Noodles & Company also made similar commitments.
These commitments respond to consumer concerns, but they are only one step in addressing the much larger problem of potentially unsafe chemicals in food today and their effect on our health.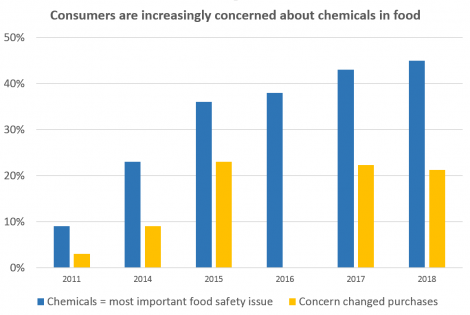 For companies just beginning their safer food journey, EDF's 5 Pillars for Industry Leadership provides a basic blueprint for success, including resources that make it easier for your company to lead:
Insights on how today's business leaders are improving chemicals management;
Tools for best-in-class safer chemical policies and practices your company can use; and
Recommendations on employee engagement and business procedures that can help every company lead on safer food.
For companies just beginning their safer chemicals journey, Behind the Label provides a basic blueprint for safer chemicals in the marketplace with our 5 Pillars for Industry Leadership.
Consumers are becoming more sensitive to potential health impacts associated with chemicals in their food, and their concern plays out at the shelf, in the courtroom and in Washington.Companies that wait for new regulations before they start examining their products' contents and phasing out hazardous food additives will face increased risk – and lose face with their customers.